What are the impacts of limescale and is it harmful?
So you've just finished scrubbing your tap chipping away at the rock-like limescale deposit and the question comes to your mind 'Is this bad for me?' In this article we'll take a look at whether limescale is harmful and if so how?
So first off what is limescale? It manifests itself as hard deposits on surfaces and in your pipework, these deposits form due to hard water. Hard water, in short, contains moderate to high levels of dissolved minerals, mainly calcium and magnesium. Limescale, put simply, is these minerals after bonding to a surface and building up layers on top of one another. The most plentiful component of limescale is calcium carbonate in its calcite structure.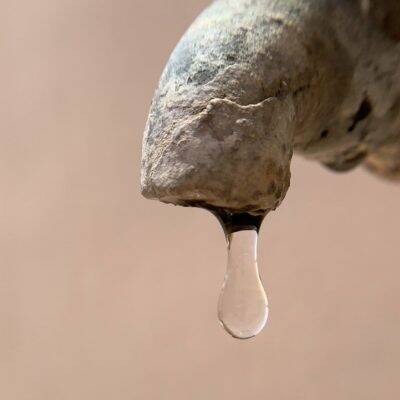 So is it harmful to consume?
Ingesting limescale may be unpleasant to the palate (not to mention crunchy!) but it isn't harmful. The minerals which form limescale, magnesium and calcium, are actually very important to the human body. In some areas hard water is actually a supplemental source for these important minerals. So, there's no need to panic if you accidentally swallow a small flake of limescale in your kettle. Hard water can potentially affect skin and hair but research suggests the effects are not to a degree which could be considered harmful.
So limescale is entirely safe?
Not so fast! Whilst limescale in its purest form might not be bad for you that isn't to say it can't be harmful in other ways. Limescale forms wherever hard water flows and rests, the bathroom and the kitchen are major limescale hotspots. When limescale forms it creates a rough layered texture, full of nooks and crannies. It is in these damp areas that bacteria can thrive. If left for too long limescale deposits can become breeding grounds for a range of bacteria. Most aren't dangerous but a few can be detrimental to human health. Legionella is one of the more dangerous species that loves to make its home in limescale.
Is limescale it harmful to your home?
Whilst limescale causes limited harm to our health it is much more harmful to your home and the appliances within it. Limescale forms more readily at higher temperatures, your kettle is an obvious example of this phenomenon with thick deposits building up throughout the kettle eventually rendering it inoperable. But it isn't just your kettle which suffers, your boiler, washing machine and dishwasher all have heating elements as key components and in hard water areas these are badly affected. This leads to big bills on replacement and repair of these parts. Not to mention the increased energy costs!
So, is limescale harmful? Not especially where health is concerned. There is some risk with bacteria breeding in limescale left uncleaned but other than this you shouldn't worry too much about limescale harming you. Limescale is harmful to your property however and its effects can run up some serious costs. If you'd like a solution to the problems associated with limescale why not take a look at the options available?