Hard water can lead to numerous concerns in your plumbing system and appliances and is commonly considered an inconvenience in many households because of the multiple issues it causes. So how does hard water affect your pipes?
Hard water refers to freshwater with a high concentration of natural minerals like calcium and magnesium. It commonly leaves a white crusty build up on surfaces, known as limescale. Limescale is one of the clearest indicators that your home has hard water.
In short hard water is formed when pure rainwater flows from the surface into aquifers, picking up traces of magnesium and calcium along the way. The concentration of mineral content in water shows the hardness of the water and is measured in milligrams per litre (mg/L) or grains of mineral per gallon (GPG).
How Do You Test for Hard Water?
A buildup of white scale on plumbing fixtures is a definite sign that your household has hard water. If there are no telltale signs, but you suspect that you have it, you can test for it directly. The best ways to do this are to:
1. Request your water provider's recent water testing results. You may also have a sample of your household water examined at a local lab or have a company perform an on-site inspection.
2. Another option you have is to purchase a water hardness test strip. Using the test strip involves holding it under running water and matching the strip's colour with the provided colour gauge reference
Plumbing Issues and Other Problems
Another common manifestation of hard water is the cloudy appearance of glassware. Through daily washes and rinses under hard water, glass plates and mugs that started out clear will become hazy and difficult to see through.
Whilst cloudy glassware is to be expected eventually as the wear on the items builds up over time these effects shouldn't come on until after a few years of use. Therefore, if you notice that your new glassware bought a few months ago has already become cloudy, then it's a likely indication of hard water problems.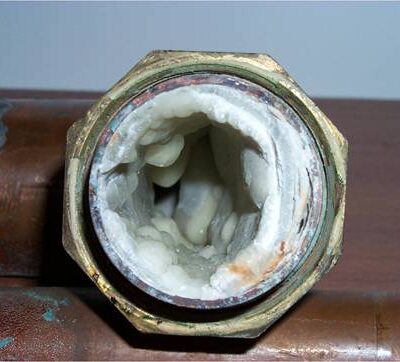 If you stay on top of these issues with regular cleaning, your surfaces and potentially your appliances can be kept safe from limescale damage. But in very hard water areas this can prove unfeasible. There are two main ways to prevent limescale build up both on surfaces and in pipework. You can either use a water softener or a water conditioner. These systems both tackle limescale but do so in different ways. Before choosing a system, it is best to identify your needs and preferences and choose which type fits those best.
So, hard water in pipes can lead to damaged plumbing and other problems in the household. You might also be spending more money on soap, repairs, and replacements because of the problem. If you're interested in how Halcyan can help with this issue please check out our in depth system explanation below!