If you've been looking at treating your hard water the first systems that you will see are water softeners. But as you read more into these devices you may have noticed that they aren't the most environmentally friendly systems. Water softeners create a sodium backwash or brine solution which is released into the water ways during their regeneration process. This of course begs the question, are there more environmental friendly solutions to the issue and are there eco-friendly water softeners as an alternative?
What is the impact of water softeners?
The main environmental problem caused by softeners is the release of chlorides into the water ways, whilst in the UK the effects of this are fairly minimal in other areas of the world where water is more scarce water softeners add to a growing issue of water contamination, for this reason water softeners are banned in some areas. The other environmental issue is water usage. Water softeners use extra water in their regeneration process, when water is scarce this is a wasteful use of water.
However, it isn't all bad. Water softeners, despite their issues can help the environment by preventing limescale accumulation. The question then is whether this makes up for their other sustainability downsides?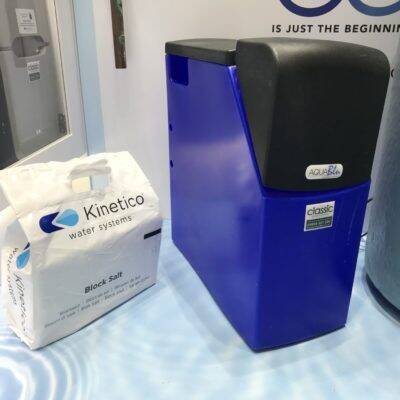 Are there better versions?
There are much more efficient makes and models of water softeners which go a way towards addressing the issues we've just mentioned. More efficient systems, particularly metered models, use both less salt and less water in their regeneration process. But whilst this does reduce the softeners impact it doesn't remove it completely. Another way in which water softeners can reduce their impact is through using potassium instead of sodium, this is more expensive however and comes with its own environmental implications.
Whilst an eco-friendly water softener isn't something that is available there are alternative systems designed to deal with hard water and limescale. These are known as water conditioners. Most conditioners require minimal maintenance (if there is any at all), don't add anything into the water and don't use up extra water in their process. Some conditioners, such as the Halcyan are also very long lasting. The Halcyan can treat a home for 30 years without a reduction in efficiency. This means fewer replacements and therefore less waste. If sustainability is important to you then it will be more than worth your while to take a look at water conditioners.
So is there such a thing as an eco friendly water softener? Sadly not, but there are models that do a better job and more importantly alternative water treatment systems available. If you'd like to find out more about Halcyan in particular please check out the rest of our website!