If you're wondering why the water isn't flowing from your shower as nicely as it used to or if certain streams are shooting off in the wrong direction, then you've come to the right place. In this article we'll answer the question 'why is my showerhead blocked', how to fix the problem and how to prevent it in the future.
Limescale and Hard water.
A showerhead which is blocked is a tell-tale sign of limescale build up within the he filter screen and in and around the nozzles on the shower head. Limescale is caused by the minerals in hard water bonding to surfaces and forming layers of hard deposits. Showers are especially susceptible to this as more often than not you'll be using more hot water and heat increases the speed at which limescale deposits on surfaces.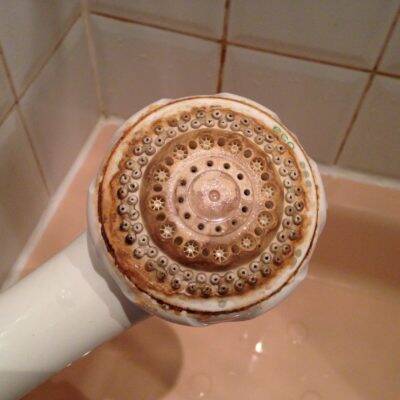 How to deal with the blockage
So you've got limescale in your showerhead? Now what? Luckily there is a very straightforward way to deal with this problem, vinegar. White vinegar is acidic and if left in contact with limescale for enough time will break it down and weaken it. The otherwise rock hard deposits soften and are then easy to remove. You can either unscrew your showerhead and leave it in white vinegar to soak or, if your shower is fixed to the wall, fill a plastic bag with vinegar and wrap it around the shower head, keeping it in place with rubber bands or twine. Once you've left the showerhead to soak for a couple of hours take it out give, it a quick scrub and then run water through it to clear any remaining scale left behind. With that finished your shower should be working normally once again.
You may be asking, won't this build up just happen again? The answer is yes, over time the limescale will return and you will need to dust of your vinegar for another clean. But, there is a way you can prevent this from becoming routine. By treating your hard water you can prevent limescale from forming in your showerhead and on other surfaces in your home. There are a few different ways to deal with hard water ranging from softening to using a water conditioner.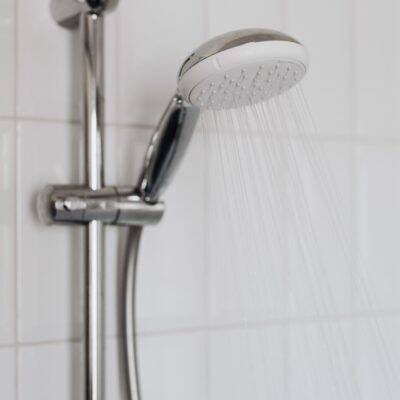 We hope this article has helped you and that your showerhead is now clean and working as new! If you'd like to see how our system, the Halcyan, can help you deal with the problem of limescale in your home please check out our system explainer page below!