Why is my kitchen tap spraying?
You may have noticed that your kitchen tap no longer runs as smoothly as it once did, with stray streams of water shooting off to the side of the sink or the flow of your tap being reduced. In this article we'll look into the why this happens and explain how to stop kitchen tap spraying.
The culprit behind your malfunctioning tap is none other than limescale, you've likely already noticed some of the hard deposits around the tap but these same deposits will have built up in the tap as well. This reduces the aperture through which the water flows either restricting the flow or causing a jet of water to shoot off in a different direction, much like when you hold your thumb against a hose. Limescale forms if your home is fed by hard water. Hard water contains high concentrations of minerals, mainly calcium carbonate. It is these minerals which form the limescale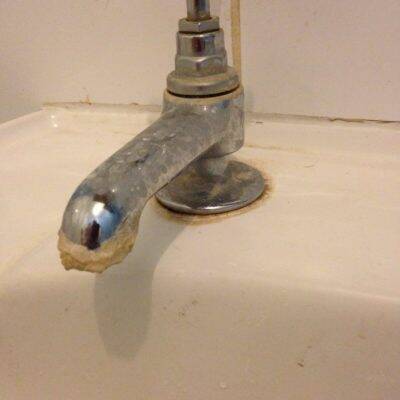 How to Deal With a Tap Blocked by Limescale
The best way to deal with limescale is actually to use white vinegar! The acidity of the vinegar is very effective at breaking down the hard scale deposits. You'll need to make sure the offending area of the tap is left to soak for a few hours. If you have an aerator or a detachable head on your tap its as simple as removing this section and leaving it to soak in some vinegar but it's a little trickier if the tap is fixed. The best way to get around this issue is to fill a plastic bag with vinegar and wrap it around the tap, then fasten the bag to the tap using rubber bands or twine.
Once you've left the tap to soak long enough simply remove the sections from the vinegar or remove the bag from the tap. Give the affected areas a quick scrub to remove more stubborn sections and then run your tap to wash away the rest. Your tap should be back in good working order and the spray should be a thing of the past.
How to Prevent Limescale from Blocking Your Taps
Now that you are armed with a technique to remove the limescale build up you will be able to tackle this problem when it happens again. Due to your hard water limescale clogging your taps will sadly be a recurring problem. But it doesn't have to be! There are a few ways you can prevent limescale from forming the two main ways being the use of a water conditioner or a water softener.
The Halcyan Water Conditioner not only prevents new limescale from building up in your home but actively removes existing limescale too! This simple device can be installed by a plumber in under an hour and will treat your hard water for 30 years. Why not check out our most popular product, the 'Favourite' Whole House Unit.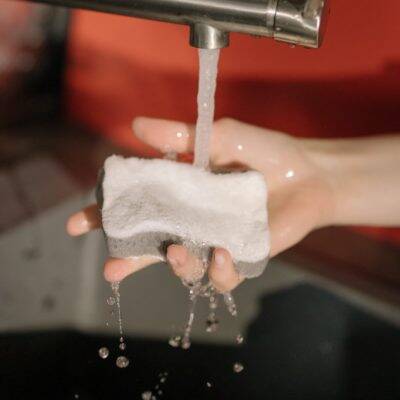 We hope you feel like you now know how to stop kitchen tap spraying! If you'd like to find out more about how Halcyan can prevent this problem from arising in the future then why not check out our explanation page running through how our system can protect your home from limescale with minimal effort.