One topic we get repeatedly asked about (and with good reason) is the residue left on surfaces with the Halcyan installed. This is a very important aspect of our system to be aware of especially if you're used to a traditional salt softener. So we'll be taking a more in depth look into what the residue is, what it isn't and how it makes your life much easier.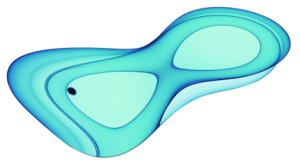 So to get to the bottom of the issue we have to touch on how the Halcyan works. Unlike traditional softener systems the Halcyan doesn't remove the hardness from the water. The minerals such as calcium and magnesium are still present. The Halcyan treats these minerals directly altering their chemical composition so that they behave differently in solution. You can read more about how the Halcyan functions in more detail in our 'system explained' section. What this means in practical terms is that calcium no longer forms limescale in the same way it would in untreated water. If you'd like to familiarise yourself with how and why limescale is formed please check out our blog on hard water and limescale respectively.
What is the residue and why is it present?
So if the minerals are being treated and not bonding as they would usually. Then why is there residue on surfaces? This is because the minerals, despite having been altered, are still present in solution. When water sits on a surface, a shower screen for example, it will eventually evaporate. The minerals however do not evaporate with the water and are left behind as normal. In an untreated system these minerals would form hard crusty scale quite quickly. This would leave you with the familiar task of scrubbing away the build-up and using descaling chemicals.
With the Halcyan hard minerals are left on the surface in their benign state and do not bond as they would previously. This is the residue, the hard water minerals left resting on the surface.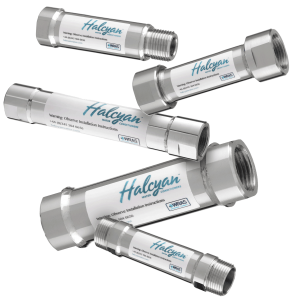 What does this look like in practical terms
If your system has had a lot of previous build up prior to installation, you may find that there is quite a lot of the stuff. This is because the Halcyan begins bringing existing limescale back into solution, temporarily increasing the concentration of hard water minerals in the system thus increasing the level of residue for a short while. Once this has been cleared away however the quantity will decrease rapidly.
So this residue is not limescale in the traditional sense. It is far easier to clean requiring no harsh descaling chemicals and a light scrub at most. In many cases a simple wipe with a cloth is enough to dislodge and remove the residue on surfaces. The most important thing to be aware of is that the change brought about by the Halcyan lasts for approximately 21 days. So if the residue is left on a surface for longer than this period it will begin to form scale. For the most part 21 days is ample time to clear away any build up, especially since cleaning will have been sped up substantially.
Now you know what to expect!
So now you know what the residue with Halcyan is and why it occurs. Hopefully, this has clarified this important aspect of our system for you! We want to make sure all cards are on the table so that you are happy with your purchase and the great results that Halcyan brings.