Hard water and laundry – common problems and how to fix them
When you your home is supplied by Hard Water it will affect all your appliances. Whether that be washing dishes, using your hot water, and even washing your clothes. There are several ways hard water will manifest itself in your laundry. Read on for some common laundry problems caused by hard water and how to solve them.
1) Soil Build Up On Clean Clothes
Hard water minerals interact with the soap particles in your washing machine. This makes it hard for the detergent to mix with water correctly, in turn making your detergent less effective at cleaning stubborn stains. You may also find stains from the detergent itself on your clothes.
These effects are made worse with soap scum and limescale build up in the washing machine itself.
The simplest solution is to use laundry detergent designed for use in hard water but if you want to stick with what you've got or already have soap scum and limescale build up in your machine have no fear! A quick fix for removing soap build-up inside your washing machine is by regularly cleaning the machine with white vinegar, the drum and rubber gaskets but also pour some into your detergent dispense and run your machine on its longest and hottest cycle
Stiff fabrics are another unfortunate side effect of hard water. The minerals in your hard water stay on your clothes as they dry, leaving them feeling rigid and scratchy. As mentioned previously the interaction between the hard water minerals and your detergent can also prevent detergent residue from rinsing out correctly exacerbating the problem.
If you want to soften those stiff clothes, follow step one to ensure that your washing machine is clean of any scale and soap scum, then wash your clothes again without detergent instead using white vinegar. This should break down the residue caught in the fabric and return your clothes to their proper state.
Also make sure you don't overfull the drum when washing your clothes as this can lead to a poor rinse and makes stiffer clothes more likely
3) Faded and/or Yellow Clothing
Unfortunately, hard water won't only make removing existing grime more difficult but will also affect your fabrics directly. When washing clothes in hard water the minerals will agitate the fibres in the fabric which can cause clothes to fade or leave yellowish patches. The only quick fix for this is to use detergents designed for use in hard water.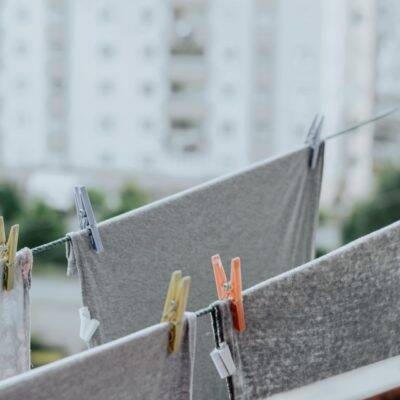 How to Prevent Laundry Problems Caused by Hard Water
In general, the above fixes will only solve your problems temporarily. If you want to be rid of hard water altogether, then you will need a water conditioner or a water softener. If you'd like to find out more about theses systems and how they differ why not check out our blog on the subject?
Limescale is a problem that can go beyond just your laundry. If left untreated, you can end up with higher energy bills and broken equipment such as your boiler. If you'd like to find out about how the Halcyan Water Conditioner helps to tackle the issue please check out our system explainer using the link below.