Low water pressure can be a frustrating problem that hampers everyday activities such as showering, filling the bath, washing dishes, and watering the garden. Understanding the underlying causes and implementing appropriate solutions can help restore adequate water pressure. In this blog post, we will explore common reasons for low water pressure and provide effective remedies to address the issue.
Water Supply Problems
In some cases, low water pressure may be attributed to factors beyond your control, such as water supply issues:
Water Main Bursts: A burst water main in the vicinity can result in decreased water pressure throughout the area. Contact your

local water company

to report the issue and inquire about the expected resolution time.

Water Demand/Peak Times: During periods of high water demand, such as mornings or evenings, water pressure may temporarily decrease. Consider adjusting your

usage schedule

or installing a water booster pump to mitigate this issue.
Faulty Pressure Regulator
A water pressure regulator, also known as a pressure-reducing valve (PRV), is a device that controls and maintains water pressure in a plumbing system. It is installed between the main water supply line and the internal plumbing. The regulator consists of a spring-loaded diaphragm mechanism that adjusts water flow. A malfunctioning pressure regulator can cause low water pressure in your home. Locate the pressure regulator, usually located near the mains water stop valve, and check if it is set to the appropriate pressure level (between 40-80 psi). If it is not adjustable or appears defective, consult a professional plumber to replace the regulator.
Partially Closed Valves
Ensure that all valves, including the main stop valve, are fully open. Sometimes, valves can accidentally be left partially closed, leading to reduced water pressure. Verify that all valves are fully open to restore adequate water flow.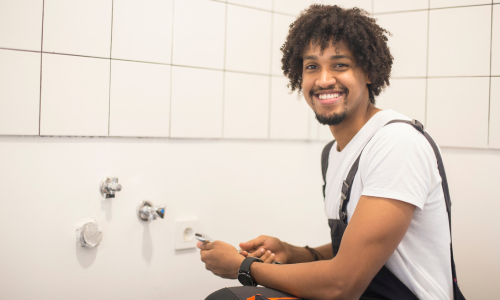 Plumbing System Issues
One of the primary causes of low water pressure is plumbing system problems. These issues can include:
Leaks: Leaking pipes can result in reduced water pressure. Even small leaks can have a significant impact over time. Inspect visible pipes for

signs of leaks

, such as dampness, mould growth, or water stains, and repair or replace the damaged sections promptly.

Corrosion: Over time, pipes can corrode due to chemical reactions with the water or soil.

Corrosion

can restrict water flow and cause low pressure. If you have older pipes or live in an area with corrosive water, consider having a professional plumber inspect your pipes for corrosion and replace them if necessary.

Clogged Pipes: Mineral deposits, sediment, or debris can accumulate and clog pipes, restricting water flow. This can be caused by factors such as

hard water

or ageing plumbing systems. Flushing the pipes or using specialised cleaning solutions can help remove the blockages and restore water pressure.
How Can Halcyan Help?
Limescale, also known as calcium carbonate, can accumulate over time in plumbing pipes and fixtures. This buildup can significantly impact water flow, leading to low water pressure. Limescale is particularly common in areas with hard water, which contains high mineral content. If you believe that your low water flow is due to limescale build up, installing a Halcyan Water Conditioner is an ideal solution. With a simple 'fit and forget' installation, the Halcyan conditions water entering your home, ensuring that it behaves as soft water does, leaving no mineral deposits in your plumbing and appliances. The Halcyan also removes existing limescale build up and over time will ensure that your water is flowing as it should be.
Conclusion
Low water pressure can significantly impact daily activities, but identifying the root causes and implementing appropriate solutions can help rectify the issue. Plumbing system problems such as leaks, corrosion, and clogged pipes are common culprits that can be resolved through repairs or cleaning. Water supply issues can be reported to the local authorities, while faulty pressure regulators may require professional attention. Additionally, checking and ensuring all valves are fully open is a simple step that can restore water pressure. By understanding the causes and implementing the appropriate fixes, you can enjoy consistent and adequate water pressure in your home.
If you'd like to find out more about the Halcyan Water Conditioner, you can explore our Knowledge Centre and find out how it works here. You can call our expert team on 0345 504 0656 for more information on how you, your home and your garden can benefit from installing a Halcyan.
Why choose Halcyan?
Halcyan Water Conditioners is a British company based in Bristol and our alloy-based solution to hard water is unique to the UK. Unlike water softeners, our alloy-based Water Conditioner is an eco-friendly, people-friendly solution to hard water and ensuring good water flow in your home. With our 30 Year Warranty and our 12 Month Money Back Performance Guarantee, the Halcyan is the perfect 'fit and forget' solution!
Learn More