We are very excited to once again be attending Futurebuild next week! If the Futurebuild show isn't on your radar, it should be. In this article we'll walk through what Futurebuild is, a brief look at its history, our relationship with the show and, hopefully, you'll be keen to attend!
History of the Exhibition
So what is Futurebuild? Well according to the show itself it is a 'curated exhibition showcasing manufacturers and suppliers of the most innovative technology, products and services from the built environment' combined with their 'industry renowned knowledge programme seeing the most influential thought leaders and pioneering thinkers take the stage to address the industry's most relevant issues.' In short it's an exhibition focusing on sustainability in all aspects of the built environment.
The exhibition has a long history, having started as Ecobuild in 2005 when talk of green buildings and technology was very much a niche subject. Over the years it has grown substantially with 20,500 visitors at the last event in 2020. In 2019 Ecobuild was rebranded as Futurebuild.
What can you expect at the Show?
So what can you expect at the show? Well, you can pop by to see Halcyan at our stand for one thing! But along with us there will be hundreds of other innovative and sustainability focused brands for you to see in all sectors of the building industry. The show floor is divided into six sections; buildings, energy, critical infrastructure, interiors, offsite and resourceful materials. So it is easy to find exactly what you're looking for. One of the biggest draws of the show is the Keynote Stage, where expert voices in fields all across the industry will cover the key topics and most up to date advice. You can look through the show programme here.
Our History with Futurebuild
Our history with Futurebuild begins back when it was still known as Ecobuild in 2015. Halcyan was new to the market and what better place to highlight our passive and sustainable solution to an underreported source of carbon missions, limescale. We have been to every show since, with the infamous 2020 being our last and are very excited that life is beginning to get back on track and that we can grace Futurebuild once again. We hope you don't miss it!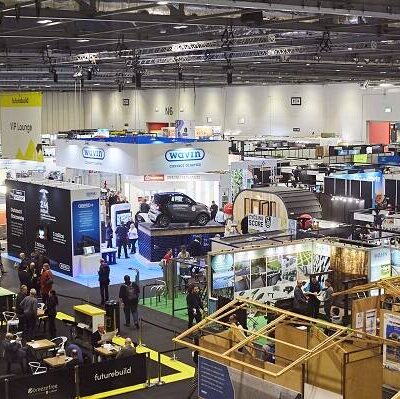 If you want to come to the show, you can register using the link below. It is completely free to attend so why not! If you'd like to find out more about Halcyan and how our system can help you tackle limescale then please check out our system explainer page.